Dr. Ming Wang, MD,PhD.
President at TN Chinese Chamber of Commerce
Wang Vision 3D Cataract and LASIK Center
A Harvard & MIT graduate (MD, magna cum laude) and is one of the few LASIK eye surgeons in the world today who hold a doctorate degree in laser physics. He has performed over 25,000 LASIK procedures including on over 3,000 doctors, and is a designated LASIK eye surgeon in ABC's national reality TV "Extreme Makeover". A researcher with a publication in the world renowned journal "Nature", Dr. Wang holds several US patents for inventions of new biotechnology to restore sight and performed the world's first laser artificial cornea implantation. He founded a non-profit 501c(3) charity, the Wang Foundation for Sight Restoration, which helped blind patients from over 40 states and 55 countries, with all sight restoration surgeries performed free of charge. As the founding president of the Tennessee Chinese Chamber of Commerce, and through his eye hospital group in China which uses mostly US made medical equipments, Dr. Wang and the chamber has helped TN to become #1 in US today in the growth rate of export to China.
Qiang Wu, M.D., Ph.D, MS.

Vice President at TN Chinese Chamber of Commerce
Member of Board of Advisor at TSU College of Business
Visiting Professor at Tianjin Polytech University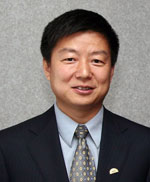 With over 10 years in executive leadership positions in businesses related to the healthcare, biotech, pharmaceutical, nutriceutical, international trade and commerce. Dr. Qiang Wu has a diverse entrepreneurial background in international business from setting-up to managing it. He starts the Newtrans International Co. in Nashville, TN in 1997 and then builds the Newtrans Group (www.newtransgroup.com) in China since 1998. The companies cover the international commerce, import/export, distributing US product in China, and healthcare related product development and marketing in China and in the USA. Dr. Wu is also one of the founders and the president of Tianjin Morris Property Services Co., Ltd. (www.MorrisChina.net), a joint venture with the American partners including Mr. Harold Morris, a 40 years pioneer in the real estate brokerage and property management in Nashville, TN. The company is founded in 2004 and focusing on property management in China and international real estate investment in the USA. He is also a partner and Chairman of Chinese American International Co., LLC. He was a partner and CEO of J International Partners Company, a portfolio company at VUTC and subsidiary of UNMI. He was a VP in charge of biotech investment and management in a public trade company in China. He also provides consultation to several US companies to explore their business in China and Chinese companies to develop business opportunities including setting up factory in the USA. He has his M.D. from Tianjin Medical University in China, Ph.D. in Pharmacology and Master of Science in Oral Biology from the University of Louisville. He was a postdoctoral fellow at the Medical School of Vanderbilt University.
David Lin
Director of Events
Fulin Chinese Restaurant
Scott Brewer
Howard Cochran, PhD
Colleen Conway-Welch
Mike East
Ray Friedman
Bobby Frist
Patrice Gordon, PhD
Galen Hull, PhD
Armando Mpermbele
Harold Morris
Jeffrey Obverby
Lawrence Papel
John Scannpieco
Brian Sconyers, MBA
Turney Stevens, MBA
Kerry Tang
Frank Xue